About Us
The Shepody Bay Inn is family friendly accommodation in Hopewell Cape, Albert County, New Brunswick, home to the World Famous Hopewell Rocks where you can experience the coming in and going out of the world's highest tides.
Our Inn was built in 1997, six of the ten rooms overlook the Shepody Bay and have private decks where you can watch the moon rise and show off it's reflection in the Bay. All rooms are clean, fresh and tastefully decorated, all have private en-suites, hair driers , air conditioning, flat screened TV's, smoke free and free WiFi. What a great way to end your busy day in the comfort of the Shepody Bay Inn.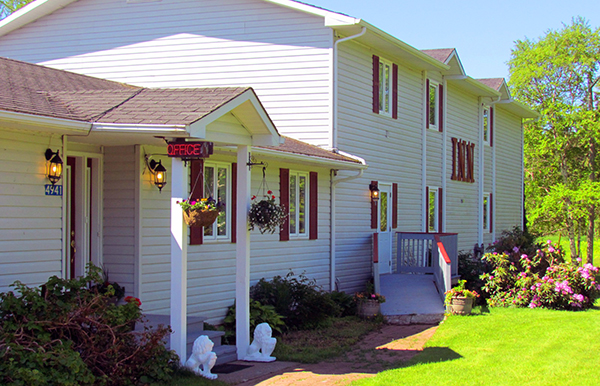 The Shepody Bay Inn (Photo credit: © 2016 Sharon Pollock)
If you're lucky, you might see as others have, a cow moose and her two calves who frequent the march foraging for their morning meal. The marsh is also home to coyotes, deer and all types of birds of the area.
All rooms are $145.00 (subject to change without prior notice) plus 15% HST per night, based on single or double occupancy.
Cancellation Policy: The Shepody Bay Inn appreciates you as a guest and we know the unexpected may occur. In order to cancel your reservation without any penalties, we would need a 48-hour notice prior to your arrival date. We will work with you when the unexpected occurs, please do not hesitate to contact us.
New Brunswick Taxes (HST): 15%.
Additional Rates: $35.00 (subject to change without prior notice) for each additional adult per room plus 15% HST.
Rooms Facing Shepody Bay: All the rooms overlooking the Shepody Bay have private balconies.
All Rooms: All rooms have one queen bed, some rooms have a queen plus a double, and some rooms have a hide-a-bed. Roll-a-way cots are available for $20.00's extra (subject to change without prior notice). Children 12 years of age and under stay for free.